Holiday time!
Christmas Time is Here MP3 – The Sky Drops cover of Vince Guaraldi classic
Christmas Feels Like Halloween MP3– The Sky Drops original
Down Home Christmas (Dec 2017)
Christmas Lights MP3 (Dec 2015)
A Bullette Christmas song gift
Christmas Makes Me Cry MP3 (Dec 2014)
A Bullette Christmas song
Christmas Blank MP3
A Bullette Christmas song written and executed by Monika Bullette with Hangnail Phillips on bass and sax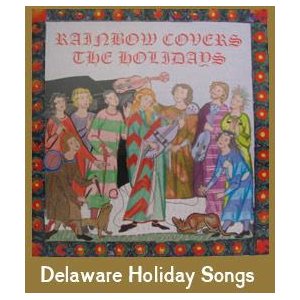 RAINBOW COVERS THE HOLIDAYS
"Rainbow Covers the Holidays" was produced by Monika Bullette. It features 18 songs by local Newark, Delaware musicians. Rainbow Records store sponsored the recording and all proceeds went to the DE ASPCA. Many of the members of these bands went on to other successful bands like The Collingwood, Theo and the Skyscrapers, Lettuce Prey, Sciflyer, Ike, Boy Sets Fire, The Casting Out, Carlton Melton, The Barons, The Stallions, The Lift Up, Easy Creatures, etc. etc.. The Bullette track was a hidden track on the album but is listed as track 18 here.
All tracks except 16 engineered by Charlie Hill at SoundLab, Newark, DE
Entire Album in Rar Form RAR
1. The Caulfields – Hang Up Your Stocking MP3
2. The Houseplants – Christmas Show Medley MP3
3. The Procreators – Carol of the Bells MP3
4. schroeder – Have Yourself a Merry Little Christmas MP3
5. Zen Guerilla – Little Drummer Boy MP3
6. Marcus Hook – It Kind of Looks Like Christmas MP3
7. Caterpillar – Christmas Don't Be Late MP3
8. Walleye – Deck the Halls MP3
9. Sound Asleep – O Come All Ye Merry Christmas MP3
10. Brill – Silver Bells MP3
11. Mother Nature's Black Light Rainbow – Do You Hear What I Hear MP3
12. Girth – God Rest Ye Merry Gentlemen MP3
13. One – All I Want for Christmas MP3
14. Whitebread – We Three Kings MP3
15. Los Hombres Mas Mucho Del Mundo Rock –Jingle Bells MP3
16. The Absurd – What Child Is This MP3
17. The Funatix/ROG – Christmas Greetings MP3
18. Monika Bullette – Blue Christmas MP3   (Rick N. on backups)
questions? bullette@bullette.net